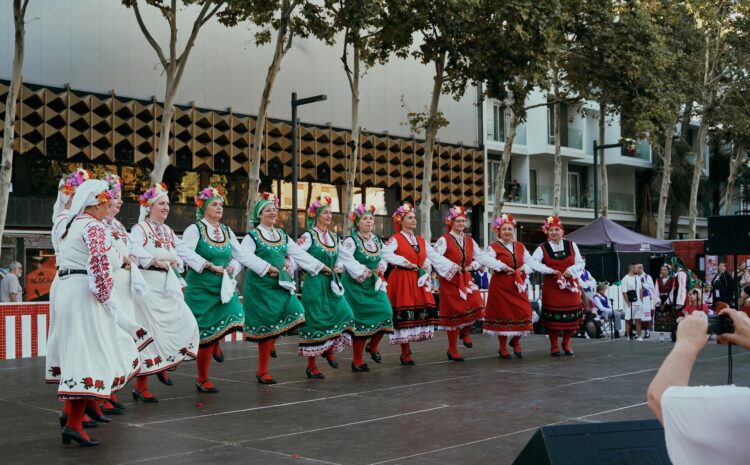 FESTIVAL ORGANIZERS
Company "Monolit Festivals" S.L. (Spain), with support of the city halls of Lloret de Mar, together with other cultural institutions, individuals and legal entities that support the goals and ideas of the Festival.
The Festival will be held on the territory of Spain, on the famous and one of the most visited coast of the country – Costa Brava.
The international Festival 'Under the Spanish sky' is a festival of various art genres: dance, music, theatre, visual arts, photography, magic tricks, circus art, martial arts, etc.
The festival is open to groups and soloists from art schools, academies, studios, children's and youth centers, children, teenagers and adults without age limit.
The purpose of this Festival is to come together and to get to know different cultures and types of creativity.
PURPOSE AND PRIMARY GOALS OF FESTIVAL
◦ Revival, preservation and development of national cultures.
◦ Acquaintance with the best creative associations, establishment of contacts between collectives, exchange of a creative experience
◦ Support and development of young creativity.
FESTIVAL PARTICIPANTS
Choreographic Art (Groups, collectives, ensembles, show-entertainers, soloists, etc.)
Classical Dance
Ballroom Dance
Modern Dance (Jazz, Modern, Neoclassical, etc.)
National Dance (Folk Dance)
Pop Dance
Social Dances (Swing, Argentine tango, Zoug, Kizomba, Bachata, Salsa, Samba, Merengue, Reggaeton, Hustle, etc.).
Mixed styles of Dance
Instrumental Music (Ensembles, Orchestras, Quartettes, Trios, Duettes and individual performers)
Modern Music
Pop Music
National Music
Classical Music
Ethnical Music, etc.
Vocal (Choirs, Ensembles of different styles of execution, Quartettes, Trios, Duettes and Soloists)
Modern
National
Academic
Church choirs
Pop
Jazz
Rock
Rap, etc.
Photography/ Video, Design
Arts and Crafts
Theater Fashion
Art of creative word
Theatrical Art
Musicals and musical theatre productions
Mixed Music and Dance groups
Other types of Art
Children, adult creative groups and individual performers with no age limit can take part in the Festival.
AGE CATEGORIES OF PARTICIPANTS
3-4 years old;
5-6 years old;
7-8 years old;
9-10 years old;
11-12 years old;
13-14 years old;
15-16 years old;
17-20 years old;
over 21 years old;
mixed junior age category – average age up to 12 years inclusive;
mixed senior age category – average age from 13 years;
mixed age category (no age limit).

* Age of groups is based on most of the participants.
Conditions of participation in the festival.
For the competition, the participants must prepare two acts accompanied by background music (max. 4 minutes each).
For the Gala Concert, the participants must prepare one act (can be a different one, or same on as at the competition)
Theatrical groups, musicals, musical and theatre productions, mixed music and theatre groups can submit one performance, lasting 15 minutes.
Participants of a collective group performing separately are considered as a separate participant.
14 days prior to the competition start, participants should send the background music of the acts to the electronic address: info@monolit.es. Life background music is allowed.
The Organizing Committee reserves the right to use and distribute audio, video clips and other kind of production, produced during the competition activities.
Team leaders are responsible for the members of the group during the period of mass Festival events and holiday.
Prizes and awards of the festival
The participants of the competition are given the following title:
Grand Prix possessor
1st degree winner
2nd degree winner
3rd degree winner
Award winner
Participant of the competition
* Winners of the competition are awarded with corresponding certificates, confirming the title. All participants will be awarded with diplomas of international standard. Leaders and supporters of the participants will be awarded official Thank you letters from the Festival Organizing Committee. Sponsors have the right to set up additional prizes and awards independently from the rewarding jury. According to the results of the competition, the winners of the Grand Prix will be defined (from all nominations).
The score rating system means that regardless of the number of participants in any category, each of them will be evaluated by the jury on the quality of his performance, without comparing one with the other participants.
In the absence of worthy contenders for the Grand Prix or other prizes, those will simply not be awarded.
Since it is a score evaluation system, according to the results of the competition day, prizes may be duplicated.
The jury's decision is final and cannot be changed.
Festival jury
The Organising Committee of the competition chooses the members of the international jury. The jury rates the performances of the competition by voting secretly on a scale of one to ten. The main evaluation criteria judges on the level of mastery.
Main evaluation criteria
Stage presence and technicality
Compositional structure of performance
Artistry, disclosure of the artistic image, scenic culture
Level of difficulty of executive performance (dynamics, emotions)
Compliance with the performance capabilities of the repertoire and artists age category
Artistry, facial expressions, disclosure of the artistic image
Creative individuality (for soloists)
Originality of the performance
Participation in competition/ accommodation, hotel 3***:
Accommodation in 3/4 room – 259 €/person (additional day – 48 €/person)
Accommodation in double room – 295 €/person (additional day – 59 €/person)
Accommodation in single room – 415 €/person (additional day – 75 €/person)
Participation in competition/ accommodation, hotel 4****:
Accommodation in 3/4 room – 319 €/person (additional day – 60 €/person)
Accommodation in double room – 365 €/person (additional day – 75 €/person)
Accommodation in single room – 475 €/person (additional day – 95 €/person)
* Groups of 25 persons: One group leader free of charge!
Additional payment for participants:
Soloists: 70€
Duets, small groups (3-5 people): 30€/person
Participation in additional category: 15€/person
All participants and guests will be provided with:
Stay in a 3/4 stars hotel (4 nights/5 days). The hotel is located 60 km from Barcelona Airport and 35 km from Girona Airport. It is located in the city center, near a beach.
2x food service per day (breakfast and dinner). Made for the convenience of participants (participants are either at performances or on excursions every day and lunches loosed). If you would like a three times food service, it can be arranged for an extra payment.
Prizes and gifts
International Diplomas
Diplomas and gifts from the city
An official invitation
Groups of 25 persons: One group leader free of charge!
Opportunity to visit the best places in Costa Brava (a big spectrum of excursions is offered for an additional payment)
Participation in welcoming evening where participants get to know each other and present their group
Master classes possibility, additional holidays before or after the festival
Attention:
The price doesn't include tourist tax!
The tourist tax has to be paid to the hotel at the check-in.
The price is 0,60€/ person/ night in 3*** hotel. This is only for people who are 17 years old and older.
Additional payments for everyone:
Excurtions
Master-classes from Spanish professionals in each art form
Photo/video of performances
Photo/video of excurtions
Medical insurance
Transport charges
Transfer Barcelona/ Girona Airport – hotel – Barcelona/ Girona Airport. If you wish, we can arrange a transfer for an additional payment. Participants arriving separately should pay separately.
Touristic taxes
PRELIMINARY PROGRAM
Day 1 – Arrival in Barcelona. Transfer to Costa Brava, where the Festival will be conducted. Accommodation in hotel, relax and depending on the arrival time, meeting with festival organizers, getting to know the festival program and presentation of the excursion program.
Day 2 – Breakfast. Rehearsal. In the evening – Festival opening, Contest Day
Day 3 – Breakfast. Excursion to beautiful and historical capital of Catalonia – Barcelona (foradditional payment). Dinner.
Day 4 – Breakfast. Rehearsal. Free time. Gala Concert, the announcement ceremony of theresults of the competition and the solemn rewarding of all participants; Dinner
Day 5 – Breakfast. Departure (Room Check-out till 10am). Transfer to airport.
*the program can be changed
*all excursions on request and for an additional payment
*The organizers reserve the right to cancel the Festival 30 days before the start of the festival week in case the minimum number of participants is missing. In the case of contributions already paid, the amount will be reimbursed in full to the participants.
For an additional payment, excursions can be organized:
4 hours on a sailing catamaran 'Sensation' (includes food and drinks + swimming in a wild bay)
Excursion to Barcelona Panoramic
Excursion to the Montserrat monastery
Show Flamenco 'Noche Espanyola'
Theme park 'Port Aventura'
Excursion to Girona and famous Dali Museum
Excursion to the ancient cities of Rupit and Besalu
HOW TO REGISTER?
1. to download the competition application form
2. to fill it out and to send it to our e-mail address: info@monolitfestivals.com